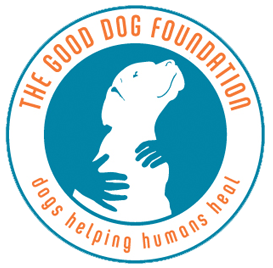 Using Animal Assisted Intervention
To Enhance Human Healing and Learning.
🚧  Website Under Construction – a Brand New Good Dog Website is Almost Here! 🚧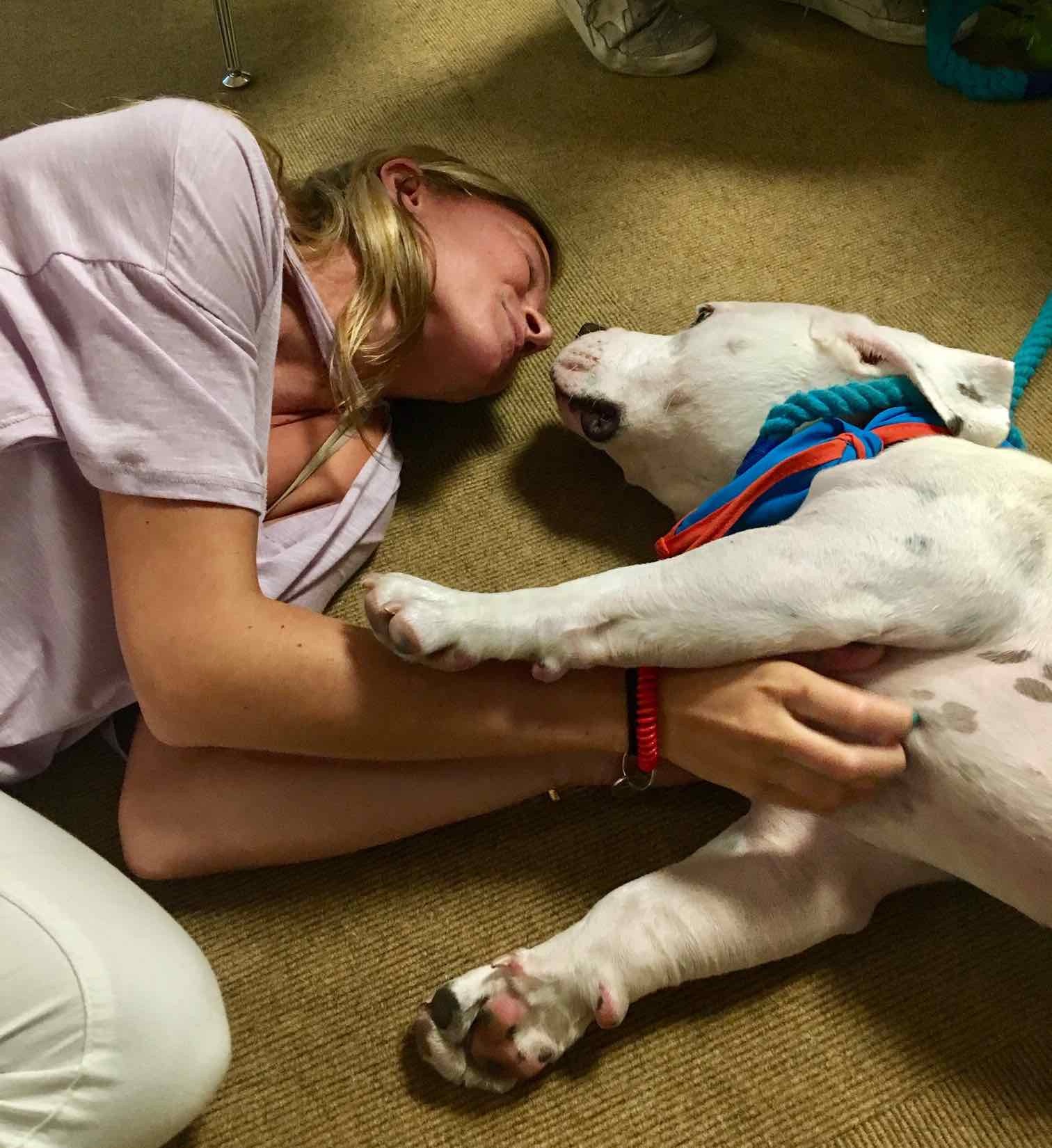 To be a Good Dog
Volunteer Team
Learn to team with your dog to help people in hospitals, schools, nursing homes, etc.
How can I get started volunteering with The Good Dog Foundation?
The first step in the process is to submit a pre-screen form, which can be found here. Once the form is submitted, you will receive an email from a Good Dog representative. If you and your dog are viable therapy team candidates, a Good Dog trainer will email you to schedule an in-person pre-screen evaluation. During the evaluation, the trainer will observe your dog's obedience skills, temperament, sociability with humans and other dogs, its relationship with its handler (that's you – the human owner!) and handler suitability. After the evaluation, the trainer will make a training class recommendation for you and your dog. Classes run throughout the year, and you will receive an email inviting you to register when a class opens in your region.
Is there a minimum age for handlers?
As of February 2017, Good Dog's policy is that all handlers must be 18 years of age or older. Most facilities impose age restrictions, making it increasingly difficult to schedule visits for under-age handlers.
Can more than one person be certified with a dog?
A second person ("additional handler") who is a legal owner or lives with the dog is welcome to take therapy classes. There is a $100 fee for each additional handler to take therapy classes along with you. The additional handler needs to attend all classes to obtain certification and later visit our partner facilities. The additional handler cannot fill in for you if you are unable to attend class.
Is there an age limit for dogs?
All dogs must be at least one year old to participate. Please wait until your dog is one year old before submitting a pre-screen form.
I have two dogs – can I train them both?
Good Dog therapy teams consist of one dog and a minimum of one handler. All training and visits must be done in this manner. However, we welcome handlers to train more than one of their dogs if they so desire. This can be done by taking each dog individually through separate training courses, or by having another owner of the dog attend the training sessions with the second dog as an additional handler.
Where do you hold training classes?
The Good Dog Foundation holds training in Manhattan, Brooklyn, and Queens, as well as Westchester, Fairfield, and Columbia counties. You will be referred to the trainer closest to you once you submit the pre-screen form in order to schedule your initial evaluation.
What skills do my dog and I need to be ready for Therapy Skills class?
To be ready for Therapy Skills, dogs must be able to perform basic obedience skills such as Sit, Stay, Down, and Leave It on the first try. Dogs must also walk politely on a loose leash on a flat collar or harness, and may not jump to greet people. They also must demonstrate to the trainer a love of greeting and engaging with strangers without hesitation or avoidance. Handlers must demonstrate control over their dog at all times. If your dog needs more work on obedience skills before applying to Good Dog, the following resource may be helpful in finding positive reinforcement training: https://apdt.com/
How long do classes run?
A Therapy Skills class session is four weeks, one and a half hours per week, and costs $280 (effective as of June 1, 2021). The cost reflects class instruction with a highly-skilled, professional trainer as well as visit coordination at Good Dog partner facilities once a human-dog team graduates and becomes certified.
How do I register for classes?
After you have submitted a pre-screen form, met with a trainer for your initial evaluation, and have been approved for our Therapy Skills class, you will be eligible to register. When a class is scheduled in your area, you will receive an email inviting you to register using an online link. You can pay class fees through the online link with a credit card or Paypal account.
Are any of the fees tax-deductible?
Since class fees are for services rendered, they are not considered tax-deductible donations by the IRS. Any expenses (excluding class fees) that are directly attributable to your work with The Good Dog Foundation as a volunteer doing therapy dog services must be considered charitable donations that are deductible for income tax purposes. This may include veterinary checkups, inoculations, travel and communication expenses. We recommend that you keep detailed records and discuss with your tax professional whether or not the specific expenses that you incur will be deductible.
How long does the certification process take?
The length of time it takes from meeting with a trainer for an evaluation to graduating from Therapy Skills class can vary greatly from volunteer to volunteer. The Good Dog Foundation aims to maintain a regular schedule of training classes year-round, but depending on the schedule for our classes and a volunteer's availability, there is sometimes a delay before a class schedule works with a volunteer's schedule. The Good Dog Foundation values flexibility, patience, and the desire to serve in a supportive and caring capacity in volunteer therapy dog teams; these values will serve teams well in whatever patient population they choose to visit.
Once my dog and I are certified can we do therapy visits at my workplace?
Good Dog's insurance policy only covers therapy dogs and their handlers during the one hour time frame each day when they are permitted to visit one of our partner facilities in an unpaid/volunteer capacity. If you are a professional who would like to work with your dog in a paid/therapeutic capacity and would like some guidance, please contact our Onboarding Operations Coordinator at volunteers@thegooddogfoundation.org for more information.
If I move away, does my Good Dog certification work in other states?
The Good Dog Foundation operates in the greater New York metropolitan area. If you move outside of this area, unfortunately your Good Dog credentials will not be valid, but the Good Dog Foundation would be happy to write you a letter of recommendation to be considered for other therapy dog organizations that are local to your new location.
What's the difference between a therapy dog, a service dog, and an emotional support animal?
A therapy dog is, first and foremost, a pet. Therapy dogs are evaluated to have the proper temperament and desire to interact and engage with new people they encounter as well as solid obedience skills. Therapy dogs are given access to facilities only during the time they are visiting that facility and do not have any protection or special allowances under federal law. Our certified Good Dogs are therapy dogs.
A service dog is a working dog who has been specifically selected and trained to be able to enter all public facilities in a well-behaved manner and provide specially trained tasks to assist their handler/owner in various daily tasks that improve the individual's daily functioning and ability to operate independently of others. Service dogs are protected under federal law.
An emotional support animal (ESA) is a pet and is protected under the Fair Housing Act. An ESA requires a written letter from the individual's mental health provider that the animal's presence in the owner's home is necessary for the individual's mental health and wellbeing. ESAs are not protected under federal law and while obedience training is not a requirement, it is strongly recommended.
For any other questions, please feel free to email info@thegooddogfoundation.org